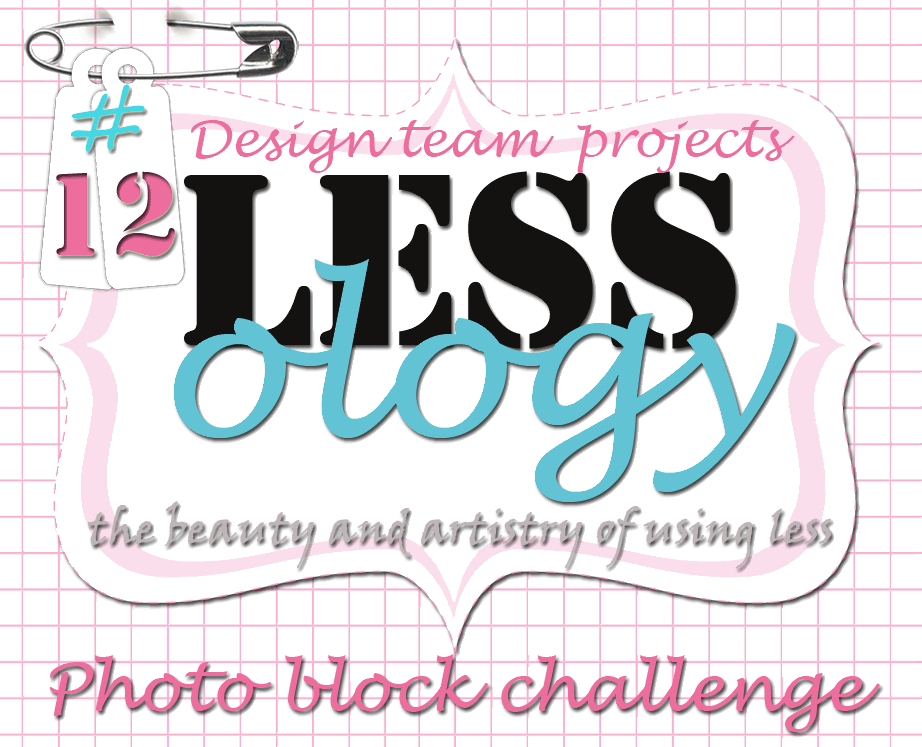 Hope you are brimming with ideas for LESSology Challenge #12: Photo Block Challenge. If not, here's more creative inspiration for you from Tesa Broman, Amy Tsuruta, Dora Dekker and Lisa Saunders.

Hi! Here is my take on the Photo Blocks challenge. I did a 2x2x2 block with photos from our summer vacation last year and a nice sentiment to go. Lots of green, such a happy color! Thought this would take us through the last month until next vacation...
As a base for my block, I used an old yewellery box. It was blue and a little thin, so I started with painting the corners with white gesso and cover it all with cardstock go get a sturdy strukture.
Now I can't wait to see what you all come up with!!!
Kind of a funny story behind my project....I emailed the LESSology Design Team to see what all everyone was going to use for their Photo Block base...some how the conversations got me thinking about something...I looked in my room...in a stash box that I have and BAM.....
I found this photo block:
The papers are Pink Paislee Nantucket...the alpha was a blog candy that I won from the fabbie

Nina Yang

! See that smidge of a doily? It is from some Prima packaging...LOVE it.
The kids and I spent a couple days at the beach during mid-winter break...
I didn't get one single picture of the girl...this is as good as it gets...her very fun chevron scarf I bought her for Christmas:
She's soon-to-be-seventeen...need I say more?
I just had fun filling up each panel with goodies from the Nantucket collection.
Me and the Boy...I know that I'll look at this later and wonder how old we were that year so I'm just announcing it here:)
I can't wait to see how you're inspired to create a Photo Block project! Remember that your project needs to contain at least one upcycled/recycled item!

Hello everyone, this is such a challenge...I mean a real one!
But I have made someting that cheers me up, and I see it when I wake up every morning:)
This is what I used, we all know them
I used waterbased glue and simple white napkins, and that is the base...used a lot of gesso to make it white and because of the napkins you will get some structure. on this block.
Let it dry and spray on different glimmermist or perfect pearls, it will look like an old rock!
After that you can decorate, and I have used an angel and my favorite quote.
Hope you like my idea of an altered block!
Hello, Lisa here : )
I have to say, this challenge had me slightly stumped.
I knew what I wanted to do, but couldn't find what I wanted to make my photo block. Finally I found this in a local thrift store and instantly had an idea.
It's not a block as such, but I love the deep block that is behind the attached frame allowing you to create a 3d piece behind the glass.
And this is what I made.
The actual block at the back measures 4x4 inches and is almost 2 inches deep.
I tore off the back to start with.
And the covered the wooden frame in moulding paste.
I took a floral background stamp and created the textured look.
Once it was dry, I dabbed some pearl white acrylic paint in places where the wood was slightly showing through and then misted lightly and added some glimmer glam in places.
And then the decorating.
I took a piece of white card that would cover the back of the block and created a mini layout. The insides were covered with patterned paper and the mini creation was stuck to the back.
Finally a wooden butterfly was added along with some glitter here and there.
Thanks for stopping by today.
I can't wait to see what you come up with : )
Another round of fabulous ideas from our awesome design team! We would love to see your take on LESSology Challenge #12: Photo Block Challenge! Please read our challenge rules to ensure eligibility for our prizes. :)