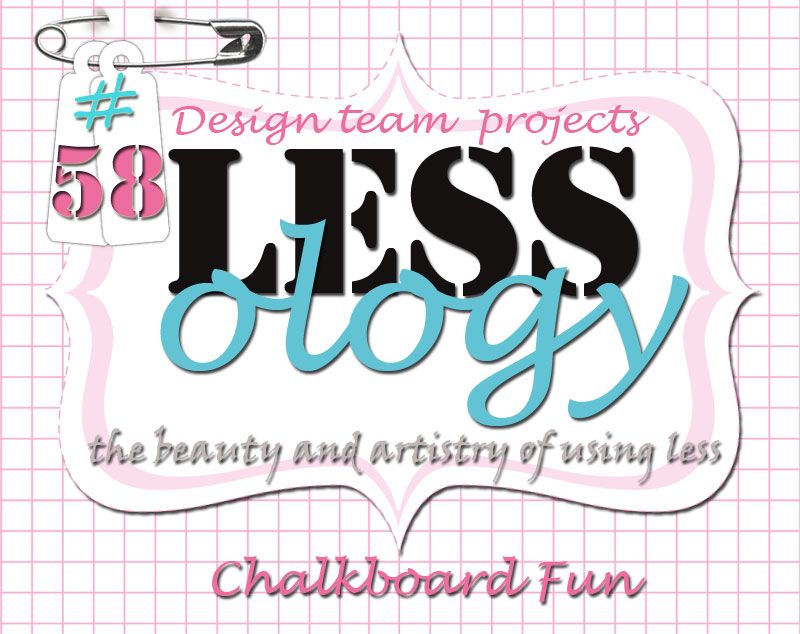 This month's Lessology Challenge is all about Chalkboards. I had all kinds of ideas but I finally settled on this one. I bought this chalkboard paper some time ago from Stampin' Up 'cause I thought it would be cool... and it is... but until about a month ago it sat all packaged up doing nothing. I've also been wanting to create a pocket letter... all the rage right now and they seem like so much fun... and guess what... they are!! This is a gift... and it might be for you... so I'm not gonna give away all of the secrets... but I'll show you a few.
So when I sat down to start it we had just heard that we lost a wonderful man and musician, so he was on my mind. I used some chalk to create a little bit of a solar system around the crown and hard to see, but I speckled it with a little bit of glitter pen. I added the handwriting with a gel pen because none of my chalk pens had a small enough tip. So... here's to Prince... it still makes me teary... but I'll leave it at that..
I bought some chalk ink at the same time I got the paper, but I wasn't happy with the way it stamped... it seemed so faint and maybe I just didn't know what I was doing, but I decided I liked the look of these soft embossing powders on it... kind of chalky looking I think, but definitely pops...which is what I wanted. This card is full of things that I love.. the gold doily... the cacti, the gold bling and that cute little pup... one of my favorite digital images from Craftin Desert Divas. I think they'll be loved where they are going too.
LOVE this stamp from Unity... I think it's a good one to repeat in the mirror every morning....
Another Unity stamp ... this owl... so cute! Don't you love her glasses?? And the sentiment... I think I've been heard to say that once or twice. Throw in some of my favorite Gold dotted washi tape, gold shimmer trim and a leftover star from some gold project...lol... I've had a few of those... I colored him (outside the lines too) with some colored chalk.
So you may be wondering where the heck the upcycled item is on this project... here it is. I had to get a new cord for my Ipad. I have two cords that look like someone chewed them. Yes, I do have a dog that tends to gnaw on inappropriate items from time to time... but this was not him... anyway, I bought the cord and when I opened up the box there was this AWESOME silver shiny cardboard that was part of the packaging. LOVE it!!!! And of course I saved it. I cut three of my cards out of it and embossed them with different folders. I have some left over too but not nearly enough ... I think I could use an extra cord... don't you? The cute sentiment is from The Sweet Stamp Shop... with the font it might be hard to read, but it says "I Can't Adult Today"... tee hee! I really can't.
And here's another great Unity stamp... I just love some of their sentiment stamps...this is one of my favorite quotes and was so excited when I found it. Another good reminder on those tough days. That cute little lion is from Reverse Confetti.
So I'm not gonna show you what's in the pockets behind the cards, but I will tell you while I was working I cut some extra items and added a few more goodies.... like I said... I don't want to give away all of the secrets. There's also a good chance I added a few more items to the front before you even read this...that's just how I am...
Can't wait to see what YOU create for the Chalkboard Fun challenge!