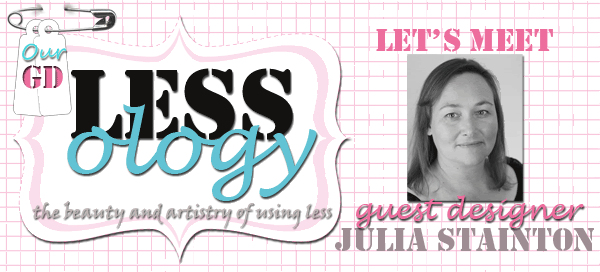 Hi! My name is Julia and I'm thrilled to be guest designing for LESSology! I'm just loving this site and concept and the challenges! What a great place for inspiration.




Challenge #1: The Altered Book Challenge is an amazing one. Have you seen all the possibilities? I'm super excited about it as it gave me the impetus to make something I've been wanting to create for a long time. My altered book is one that I created myself out of a cardboard lid off a banker's box. LESSology is all about altering and upcycling and I've had so much fun putting this little album together.
My "Things I Like" Album is created from cardboard pages that have been cut to 5"x7" in size. There are six pages and I've enjoyed covering almost every square inch of them. The Crop-a-dile makes punching through cardboard so easy and my little album is held together with some binding rings from the office supply store.
This album is fun, messy and I love that anything goes. Don't take an album like this too seriously. They are a great place for using up bits and pieces of this and that. I love incorporating things I have around the house. Scraps of canvas fabric turned into this pretty rolled flower on the cover.
Here are the edges of the pages. I've stapled on little tabs from tickets and ribbons etc.
How about a peek inside?
I adore sewing and old patterns make great textured backgrounds with glued to the pages. I crumpled mine first for extra texture and then used a liquid adhesive to adhere.
Most of the pages hold different themes on the opposite page but I've tried to tie them together visually by using similar stamps and colors on each page. Background stamps are a great way to alter and add interest to plain pages. I've also using liberal amounts of white paint on the edges of most of the pages in this book. Picket Fence Distress Crackle Paint is so easy to apply with the built in brush and it adds a great texture when dry.
Lots of stamping and inking on these pages. Don't worry if your handwriting isn't perfect. Mine is FAR from being so. It's a piece of you and just add in your thoughts.
We're almost to the end with these pages. I've covered them with Tape Strips and patterned paper.
Lastly, I have so many things I like that didn't fit into my categories that I just kept listing them on the back of my album. Use every space if you want to. Lists are also a great way to journal that are quick and to the point.
I hope you'll be inspired to create a fun cardboard album. Have fun with it!
Thanks so much for joining me today!
_____________________________________________________________
Wow! Isn't Julia's altered book just beautiful? :) Please leave a comment for our guest designer Julia.
Get your entries in for
LESSology Challenge #1: The Altered Book
! Challenge ends on
Sunday, September 18, 11.59pm EST
. Please read the
challenge rules to ensure your eligibility for our prizes
.