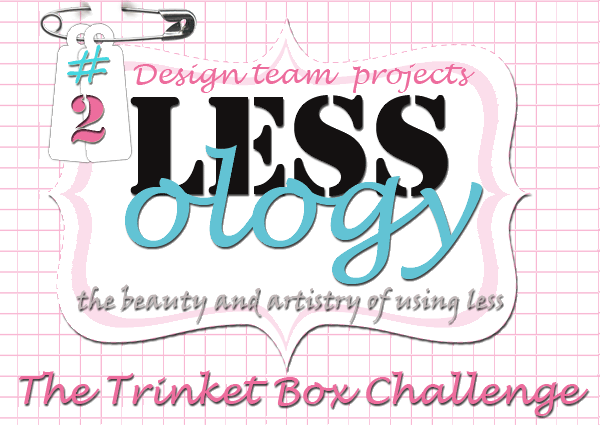 Today we are sharing the creative projects of Dora Dekker and Tesa Broman! :)

Hello Everyone, it's Dora here.
And this is my first project for LESSology, and it is such a great one.
The trinket box.
I have made my trinket box from an old box, I always save boxes and have too many of them but they are great to work with.
This is how the box looks like before I start, (sorry for those bad pictures)
First I used cardstock for the whole box, and I used a Grand Die for the upper and lower side. After that I decorated with some design paper including the inside of the box as well as the top portion.
But than we have a box and no little compartments.
I simply used thick chipboard, and make them the size of the box, again I used design paper and used very strong glue, let it dry for a while. You can make different sizes of compartments, like I did.
After that you can do whatever you like.
I always look for old items on markets and antique shops, that key is a real one.
Use little bottles, some buttons, and paper in a dollhouse.
I hope you like my little trinketbox!

Hi all! Tesa here with my first project for the LESSology challenge. I'm so excited, love the upcycling and altering idea!!!
I've made a trinket box for one of my nieces and I thought she'd love a lot of small drawers in a purple box - to match the colors of her room. So I gathered a bunch of old match boxes (I got a ton of those!) to use as base for my project.
They are glued down on a cardstock base and for the top I made a card the same size as the box. When it was done with decoration and all it was simply adhered on the top with glue.
The papers are from Riddersholm Design and the bird is fuzzy cut from one of the papers. It is adhered with pop dots on an oval cut out with Spellbinders dies.
Inside the card, there is room for a little written message and you could also keep paper notes there. The flourish is cut with a die from Cheery Lynn.
I used brads for handles on the little drawers. And I covered the fronts with patterned paper.
The corners are cut with Spellbinders' Floral Doily Accents shapeabilities.
Now I have to make a pink one for my other niece... LOL! I can't wait to see what you all come up with!